Double Seal Plunger Pumps
Double Seal Plunger Pumps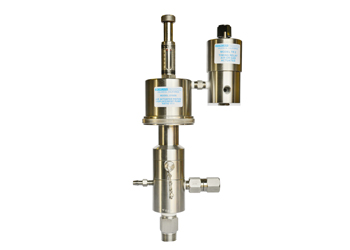 Typical applications for double seal plunger pumps include methanol and corrosion inhibitor injection. Our pumps require either the TR-1 or TR-2 Timer/Relay in order to function. In the event that the pumps will be used within a SCADA system, a timer is not required.
Features
The plunger is made of hardened 17-4 PH stainless steel. A protective coat of titanium nitride adds superior abrasion resistance and chemical compatibility for a longer service life.
Hand tightened lock ring provides easy access to plunger and seal.
The spring is made of Inconel and coated with Teflon for an extended service life.
The plunger is separate from the air piston and can be replaced independently at one-third the cost of replacing both.
Special cut-resistant ceramic check valve balls have a longer service life than standard stainless steel balls.
Specs
All stainless steel construction.
Double seal (DS).
Wide selection of seal materials to 

ensure

chemical compatibility.
Get A Quote
General Documents
Double Seal Plunger Pump Documents