HD Series Chemical Injectors
HD Series Chemical Injectors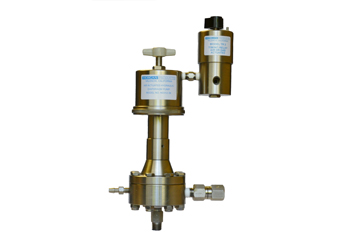 Typical Canadian applications for HD Series Chemical Injectors include methanol, corrosion inhibitor, bleach, and odorant injection. Our pumps require either the TR-1 or TR-2 Timer/Relay in order to function. In the event that the pumps will be used within a SCADA system, a timer is not required.
Note:  
HD1062, HD1062-3K pumps require SR1S snap action relay.
Features
Innovative pump design incorporates a hydraulic diaphragm, separating chemical from seals, thereby preventing leaks and seepage.
The oil in the upper chamber serves as a plunger lubricant as well as hydraulic fluid.
The diaphragm is Teflon-coated to prevent corrosion.
The plunger spring is Inconel-coated with Teflon for longer service life.
The Pump housing is made of stainless steel, particularly recommended for corrosive environments.
The TR2 timer has become a design standard for the industry. Lightweight, no springs, and only two moving parts make it especially easy to maintain. Typically outperforms other timers/controllers in PSI (25-150) and SPM (0-50).
Recommended Pump Installation
Loosen ring on the Power Piston.
Stem can be unscrewed to check oil in the reservoir. Oil level must be up to the Packing.
Replace the stem.
Tighten ring on the Power Piston.
Place a couple of drops in the oil hole on the side of the stem to ensure lubrication above the packing.
Oil level should be checked in this manner on a monthly basis.
Ring and Stem should only be Hand Tight.
Any questions or concerns should be directed to Panama Enterprises. Feel free to contact us to arrange a free training seminar for your company or your customers.
Specs
Patented hydraulic driven diaphragm system isolates chemical from plunger and seal.
All models utilize Teflon-laminated diaphragm.
All fluid contact parts 316 stainless steel.
All other parts 300 series stainless steel.
Get A Quote
General Documents
HD Series Documents