D Series Chemical Injectors
D Series Chemical Injectors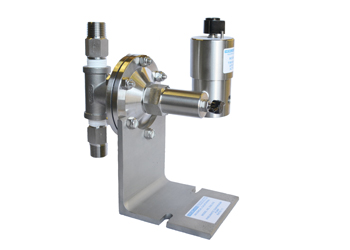 D Series Chemical Injectors are unsurpassed for pumping caustics or acids up to 150 PSI. Our pumps require either the TR-1 or TR-2 Timer/Relay in order to function. In the event that the pumps will be used within a SCADA system, a timer is not required.
Features
Pumps are available in solid stainless steel construction or a combination of stainless steel and PVC.
The chemical compatibility of the Teflon-laminated diaphragm results in increased durability.
Morgan's unique design eliminates unbalanced pressures, which can cause diaphragm failure.
Rate and volume adjustments can be made while the unit is in operation.
The solid stainless steel base is designed for secure and convenient pump mount.
Specs
Available in all stainless steel or stainless steel and PVC.
All models utilize Teflon-laminated diaphragm assembly.
Unsurpassed for pumping acids or caustics at up to 150 PSI.
Design eliminates diaphragm failures due to unbalanced adjustments.
Get A Quote
General Documents
D Series Documents