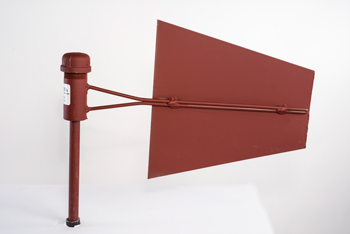 Panama Enterprises supplies metal wind vanes to multiple industries in Alberta - as well as throughout parts of the world!
We have been doing so since 1990 and continue to offer superior products at competitive prices with fast and friendly service.
Each of our products is individually made, including our metal wind vanes.
How Do Wind Vanes Work?
Wind vanes play a crucial role in understanding wind velocity and direction. They are also used to promote safety across various industries.
Our devices can detect even the slightest breeze or wind. This provides valuable information that can save lives during emergencies.
Understanding wind velocity and direction is essential in many industries. Knowing this helps prevent accidents and hazards.
Wind vanes offer a reliable means of monitoring and assessing wind conditions. Our metal wind vanes are made to serve this purpose, ensuring the safety of your crew.
Each vane is attached to the shaft using sealed metal bearings, allowing for smooth and accurate movement. All our wind vanes also come primed and ready for painting.
You can also use wind vanes along side windsocks and frames to gain a better understanding of wind patterns.
By investing in our metal wind vanes, you gain a valuable tool that aids in reducing risks associated with wind.
Contact us today for more information about our metal wind vanes.
Industries Served
Panama Enterprises serves the oil and gas industry in Alberta and various parts of the world.
Our metal wind vanes are designed to meet the needs of industries where wind poses safety challenges.
These industries include:
Oil and Gas: In the oil and gas industry, wind can create hazardous situations that endanger workers' lives. Our metal wind vanes provide a reliable sign of wind direction, helping to mitigate potential accidents and hazards.
Construction: Wind can impact construction projects, especially those involving lifting operations or working at heights. Our wind vanes help construction crews track wind direction and take safety measures.
Transportation: Wind direction is crucial for safe transportation, particularly in industries such as aviation and maritime. Our metal wind vanes offer a visual sign of wind direction. This aids in navigation and reducing risks during transportation operations.
Renewable Energy: Wind farms and other renewable energy projects rely on wind turbines to generate electricity. Our metal wind vanes contribute to the safe operation of these projects by providing accurate wind direction information
Agriculture: The agricultural industry can use wind vanes to understand wind patterns for crop spraying, windbreak planning, and farm management.
Environmental Monitoring: Wind vanes help assess air quality and understand the dispersion of pollutants. They are useful in industries like manufacturing and waste management
Get in touch for more information about our metal wind vanes.
Wind Vane Specifications
Sizes:

12" x 12", tapering down 6" on one side
12" x 24", tapering down 6" on one side

Primed metal