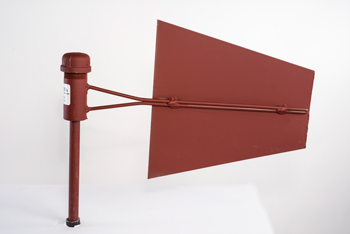 Panama Enterprises supplies Metal Wind Vanes to the oil and gas industry in Alberta - as well as throughout parts of the world! We have been doing so since 1990 and continue to offer superior products at competitive prices with fast and friendly service. Each of our products is individually made, including our metal wind vanes. 
Safety is our number one priority and any amount of breeze or wind will indicate airflow direction and velocity, potentially saving lives in the event of an emergency.
In the oil and gas industry wind can create health and safety challenges, creating a potential for major accidents and hazards such as fire and explosion as well as lifting operations, falls from high places, blade damage, and ice fall.
To avoid accidents and hazards, it's important to understand wind velocity and direction. Our one-dimensional metal wind vanes are designed to help show wind direction in order to keep your crew safe.
Each vane is attached to the shaft with sealed metal bearings to ensure ease of movement. All vanes come primed and ready to paint!
Contact us today for more information about our metal wind vanes.
Metal Wind Vane Specs:
Sizes:

12" x 12", tapering down 6" on one side

12" x 24", tapering down 6" on one side

Primed metal