Windsock Wall Mount Frames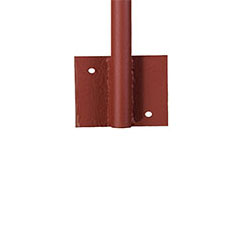 A windsock wall mount is a device used to attach a windsock frame to a vertical surface, such as a building, tower, or pole.
Windsock wall mounts have two fastening points and are best used to attach items to the side of buildings without overhangs.
However, they can also be fastened to wooden poles and welded to extensions from 2' to 8' in height.
To determine the length of the extension you should use, keep in mind the size of the sock and frame you are using. This will prevent the sock from getting caught on the building in low wind.
How To Mount A Windsock Frame With A Wall Mount?
Wall mounting a windsock frame involves the following steps:
Choose a suitable location: Look for a location that is easily visible to the people who need to read the windsock. Make sure the location provides a clear view of the surrounding area and is free from any obstructions that could interfere with wind flow. (Could be by a possible hazard or by evacuation points)
Install a wall bracket: A wall bracket is typically used to hold the windsock frame in place. The bracket is made of a sturdy material that can withstand wind and weather conditions. Follow the manufacturer's instructions for mounting the bracket securely to the wall.
Attach the windsock to the frame: Panama Enterprises windsocks have brass grommets that can be attached to the frame using a hog ring or wire. Make sure the windsock is securely attached to the frame and is able to move freely in the wind.
Adjust the windsock: Once the windsock is attached, make any necessary adjustments to ensure it is properly aligned and able to move freely in the wind. Check the windsock periodically to make sure it remains in good condition and is providing accurate information.
Industries Served
Aviation: Windsocks are commonly used to indicate wind direction and speed to pilots. Windsock wall mounts may be used at the ends of runways, near helicopter landing pads, or at other key locations on airport grounds.
Oilfield: Windsocks are an essential safety tool in the oil and gas industry, and you can find them at oil and gas platforms, refineries, chemical storage facilities, and more. They are used to identify wind direction should hazardous gasses or substances escape from these facilities, allowing employees to move to a safe location.
Agriculture: In the agriculture industry, windsocks are primarily used for spraying application, allowing the operator of the sprayer to better judge spray drift area and distance based on the speed and direction of the wind.
Maritime: Windsocks can be used at ports, harbors, and docks and can be attached to pier or wharf structures or on the masts of ships.
Construction: Windsocks help crane operators and other workers determine wind direction and speed. They can be mounted on construction trailers or on temporary or permanent structures.
Chemical and petrochemical: Windsocks are used in the oil and gas industry to indicate wind direction and help workers avoid exposure to hazardous substances. Windsock wall mounts can be used on storage tanks or other key structures.
Military: Windsocks are often used to indicate wind direction and speed for aircraft, missile systems, and other equipment. Windsock wall mounts can be attached to bases, aircraft carriers, or other military installations.
Wall Mount Specifications
4 X 4 flat plate
Carbon steel