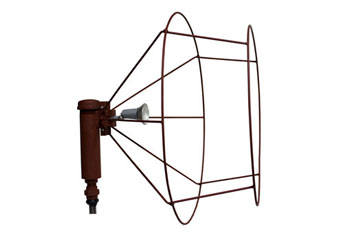 In order to provide higher visibility during the night, Panama Enterprise's Mandrel Frames illuminate the windsock by mounting to the existing frame and providing light to increase safety.
Windsocks are used in a variety of industries and their main goal is to indicate where the wind is coming from and how hard it is blowing.
However, they can also be used in factories to allow workers to estimate the direction in which hazardous substances are being blown in order to determine a safe escape route.
No matter the reason for using a windsock, their design all comes down to operating your site as safe as possible.
With a mandrel frame, you can ensure that your workers can see the windsock at night to better ensure their safety!
The mandrel frame can only be mounted to a 24" or 36" frame and requires, at a minimum, a 75-Watt lamp for optimal visibility - which is included with all of Panama Enterprise's mandrel frames.
Check out our selection of high-quality windsocks and frames!
Specs
Requires 120-Volt power source.
75-Watt lamp provided.